December 2nd - December 15th
Christmas Course
Give in to the allure of the lights
Organized by:

Christmas in Japan is not what you'd expect normally, it's so much better. Japan takes all the best parts of Christmas and packs it into one. It's a magical time of year for many people and the Japanese focus on creating that perfect atmosphere. When they put up their illuminations they certainly don't do it by half. Everywhere you go there are bright lights twinkling away, drawing you in and wrapping you up in the magic. There are a few not to be missed though and the Japan Christmas Course makes sure you don't miss the best. It's important to mix up some tradition in there too so you get the full experience. A chance to dress in a traditional Yukata, or dining out on a Yakatabune as you float down the river through Tokyo, really tops things off.
PLAY
The Christmas Course mixes amazing illuminations and traditional Japanese activities so you get the cozy, magical feeling of Tokyo at Christmas
STUDY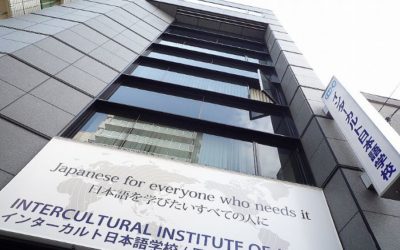 A central Tokyo school, Intercultural Japan is one of the older schools we work with. Meaning they've got plenty of experience to help you learn Japanese.
LIVE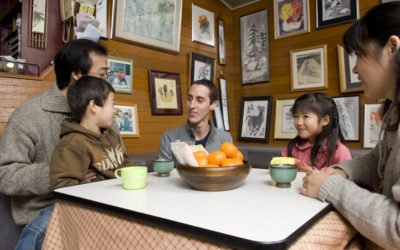 A homestay is the accommodation included with your course price. Staying with a host family is a great way to fully immerse yourself in Japan.
Length
This 2 Week course is ideal to get the full taste of Tokyo and a start on your journey to learning Japanese
Schedule
The classes are run in the morning with fun packed evenings to practice your new skills
Level
This course is available for all levels so you don't need to worry if it's right for you
Discount
Book with a friend and you'll receive a group discount of 15,000 yen each! For groups of 3 or more you could save up to 60,000 yen between you.
Activity Schedule
Week One

Cruise down river on a Yakatabune
Take a cruise on a Japanese wooden tour boat, a Yakatabune, that were popular in the Edo period. While you're floating downstream you'll get to dine on some delicious traditional cuisine.

Learn how to dress in a Yukata
Learn how to properly dress in a yukata, a traditional Japanese garment. It's the perfect chance to get dressed up.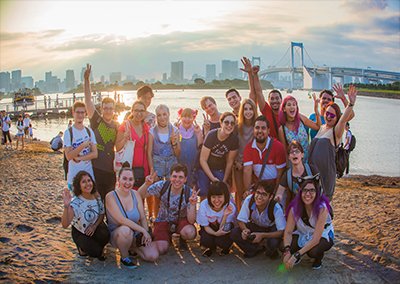 Take a tour of Asakusa and enjoy fireworks in Odaiba
Wonder at the traditional delights of Asakusa, before heading to Odaiba to see the giant Unicorn Gundam. Top it off with a spectacular fireworks display.
Week Two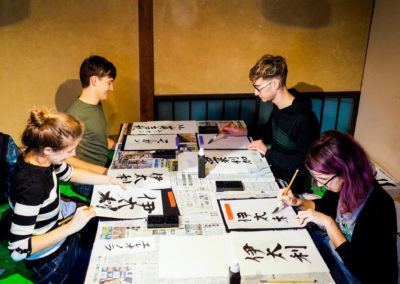 Try some Creative Calligraphy
Japanese calligraphy or 'shodo' truly is an art form. Why not pick your favourite character from your lessons and turn it into your own personal artwork.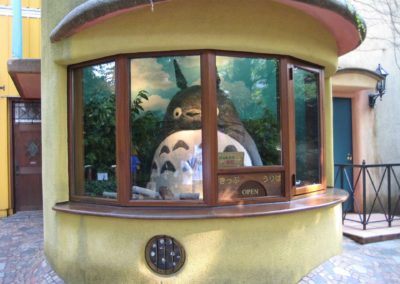 Wander and wonder at the Ghibli Museum
Ghibli brings its characters to life in the studio's own museum. With recreations of scenes and life-size characters, it's a truly wondrous place and a must-see for any anime fan.

Bright lights of Tokyo Dome Illuminations
Enjoy a night out singing your heart out at Karaoke and take in the amazing Christmas illuminations at Tokyo Dome, you'll be blown away.

Christmas Illuminations in Rikugien
There are a lot of illuminations to choose from in Tokyo at Christmas, but the Rikugien are one of the best. These beautiful gardens will take you to another world.
Choose your plan
Cruise down river on a Yakatabune

Take a cruise on a Japanese wooden tour boat, a Yakatabune, that were popular in the Edo period. While you're floating downstream you'll get to dine on some delicious traditional cuisine.

Bright lights of Tokyo Dome Illuminations

Enjoy a night out singing your heart out at Karaoke and take in the amazing Christmas illuminations at Tokyo Dome, you'll be blown away.

Christmas Illuminations in Rikugien

There are a lot of illuminations to choose from in Tokyo at Christmas, but the Rikugien are one of the best. These beautiful gardens will take you to another world.

Try some Creative Calligraphy

Japanese calligraphy or 'shodo' truly is an art form. Why not pick your favourite character from your lessons and turn it into your own personal artwork.

Learn how to dress in a Yukata

Learn how to properly dress in a yukata, a traditional Japanese garment. It's the perfect chance to get dressed up.

Wander and wonder at the Ghibli Museum

Ghibli brings its characters to life in the studio's own museum. With recreations of scenes and life-size characters, it's a truly wondrous place and a must-see for any anime fan.

Take a tour of Asakusa and enjoy fireworks in Odaiba

Wonder at the traditional