April 8th - April 28th
Spring Course
Take in the beauty of Japan in the Spring
Organized by:

Japanese spring time is one of the most beautiful times of year. From Sakura and Hanami through to seasonal food, there's beauty all around in Japan in Spring. There's a lot of delicious food beyond sushi and the Spring Course Trip is the best way to try it all. A three-week course jam-packed with the culinary delights of this amazing country, it's made for the foodie in you. This trip isn't just about eating your way around Japan, it's about getting a real understanding of the soul of the country. You'll get to try your hand at making some of the traditional foods like ramen but you'll also get to go out and about to Kawagoe and experiencing the countryside with fruit picking. The best thing is you'll be able to take our new skills home and impress your friends with your language skills and your culinary skills.
Play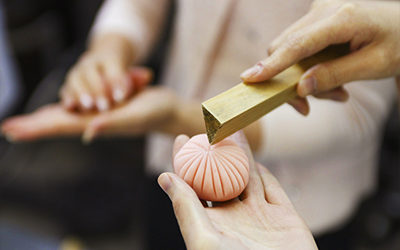 With all these tasty activities, there's bound to be something you'll enjoy eating. Try making every kind of noodle and top it off with some sake tasting. Perhaps you want to treat your sweet tooth with fruit picking or a trip to a Kawagoe.
Study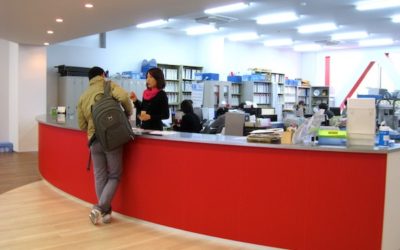 Lessons for this course are at Akamonkai, one of the largest language schools in Tokyo. With a newly renovated campus and good transport links, it's one of the most rewarding places to learn Japanese.
Live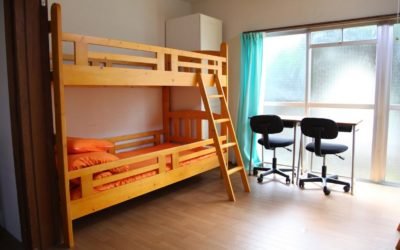 Dormitory accommodation is included as standard on the Taste of Spring trip and gives a great opportunity to discuss your favourite foods with your new friends.
Length
Spring Course runs for 3 weeks in the middle of April. A beautiful time to see this amazing place.
Schedule
Akamonkai runs morning classes so you can fill your afternoons with practice, activities and exploration.
Level
This is an ideal course for those new to the Japanese Language. You don't need to worry about knowing anything before you start.
Group Discount
Book with a friend and you'll receive a group discount of 15,000 yen each! For groups of 3 or more you could save up to 60,000 yen between you.
Activity Schedule
Week One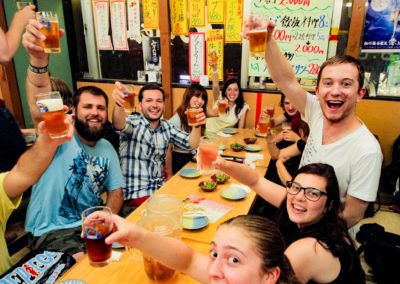 Dine out at an Izakaya
No trip to Japan is complete without a trip to a traditional Izakaya for an after-school drink. Bond with your fellow travellers over a drink and some delicious food.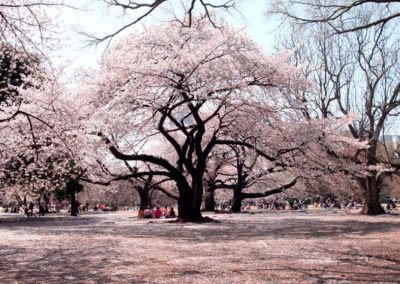 Picnic under the flowers at Hanami
Enjoy the Sakura of spring with Hanami or Japanese flower viewing. Picnic under the snow of the falling flower petals.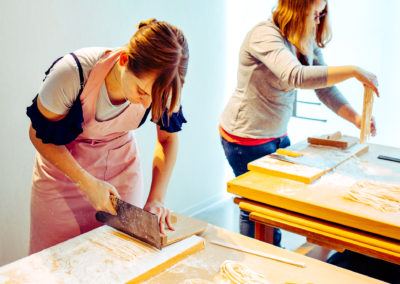 Make traditional Japanese noodles
With noodles at the heart of many Japanese dishes, you should really know how to make them. Soba's delicious so try your hand at making these traditional noodles.
Week Two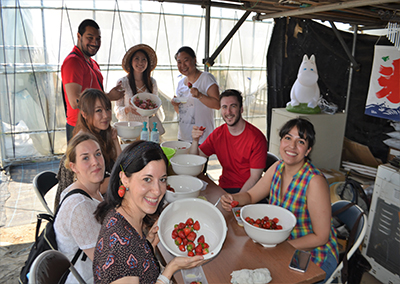 Unwind with some fruit picking
Fruit is considered a delicacy in Japan with land being scarce but that means it's really something special. Join us for a day in the countryside to pick and most importantly eat, some tasty seasonal fruit.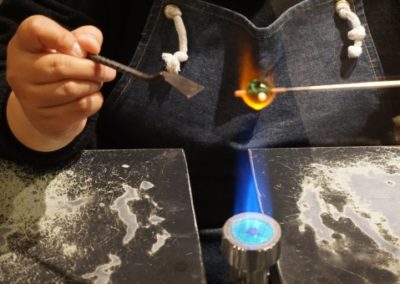 Try out Tonbodama
The art of Tonbodama, or glass ball making, has been used for centuries to make charms and decorations. Try your hand at making your own 'dragonfly eyes'.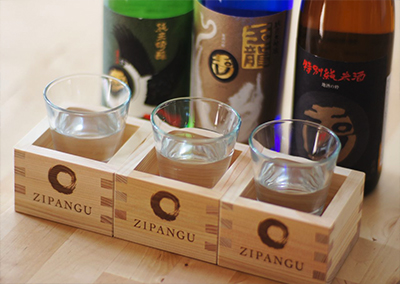 Sample some sake
Sample the delights of a local sake brewery in a guided tour followed by some sample tasting. Spot the difference and see if you could become a connoisseur.
Week Three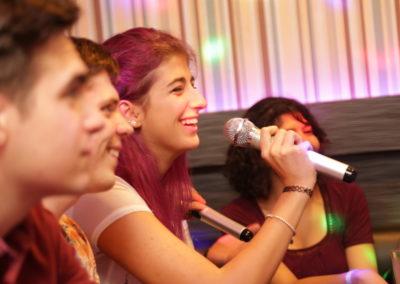 Sing your heart out at Karaoke
Get together and pick your favourite songs to sing along to. All the hits you can't get out of your head both Japanese and International!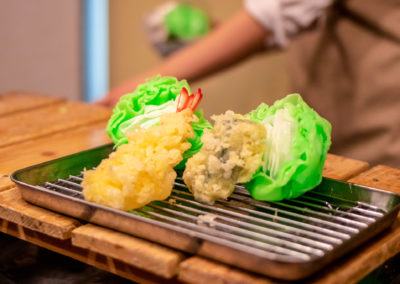 Make Food Samples
A strange but integral part of the Japanese restaurant industry the food samples on display everywhere are almost an art form in their own right. See if you've got the eye for it and make your own.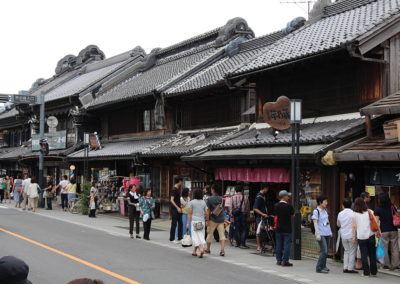 Go back in time at Kawagoe
Visit Little Edo, a city in Saitama that takes you on a journey through Edo style Tokyo with it's historic buildings and shops.
Choose your plan
Chow down at an Izakaya

An izakaya is a traditional Japanese tavern most people go to after work with their colleagues for food and drinks.

Picnic under the flowers at Hanami

Enjoy the Sakura of spring with Hanami or Japanese flower viewing. Picnic under the snow of the falling flower petals.

Unwind with some fruit picking

Fruit is considered a delicacy in Japan with land being scarce but that means it's really something special. Join us for a day in the countryside to pick and most importantly eat, some tasty seasonal fruit.

Sing your heart out at Karaoke

Get together and pick your favourite songs to sing along to. All the hits you can't get out of your head both Japanese and International!

Try out Tonbodama

The art of Tonbodama, or glass ball making, has been used for centuries to make charms and decorations. Try your hand at making your own 'dragonfly eyes'.

Make Food Samples

A strange but integral part of the Japanese restaurant industry the food samples on d